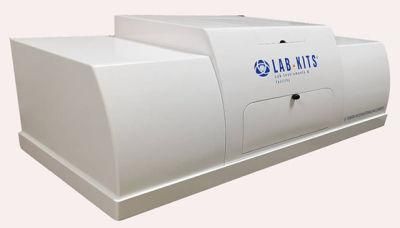 Intelligent Full Automatic Dry Automatic Laser Particle Size Analyzer
Changsha Suny Electronic Technology Limited
Type:Particle Size Analyzer
Product Description:Particle Size Analyzer
Temperature Range:10ºC-35ºC
Relative Humidity:≤85%
Accuracy Grade:1
Load Way:Electronic Load
Model NO.:PSA2000ZD
Display:Digital
Control:Computer Control
Weight:0-100Kg
Power Source:AC220V
Transport Package:Standard Export Package
Trademark:Labkits
Origin:Hunan China
Production Capacity:500PCS,Month
Net Weight
41Kg
2. Main Features:
1, Advanced design of light path:
A patented technique of Fourier transforms of converging light released the scattered light at large-scattering-angles from the restriction of the aperture of the Fourier lens. The focal length is reduced to enhance the resolution of the instrument.

2, Built-in dispersion units:
We carefully aligned the stirring set-up, the ultrasonic dispersing unit and the sample circulation pipes, and fixed them inside the instrument. Such a built-in design effectively prevents the inhomogeneous dispersion and sedimentation of big particles, which can be observed in the designs that these dispersing units are separated from the instruments, where the sample circulation pipes are therefore too long, the sample will be sufficiently dispersed.

3, Unconstrained fitting techniques:
The particle analysis software uses a unique unconstrained data fitting technique that we developed to obtain data of unknown size distribution; this is particularly important for researchers.

4, Micro sample chamber (optional):
The capacity of the sample chamber is as small as only 10ml. This helps with measuring expensive/precious samples, or samples difficult to be dispersed within medium.

5, Modern measurement control:
Users can perform all measurement procedures by simply operating on the PC and have ideal results in a very short time.

6, User-friendly Operation:
manual mode and the automatic mode, freely choose, to measure according to the sample features. In some conditions (e.g. the sample have unknown features or there are special requirements for the measurements), users can make a test measurement in the manual mode first, and after having an idea of the sample features and the measurement conditions, measure the samples in the automatic mode.

7, Fully automatic light path alignment:
A precise four phase hybrid stepping motor automatically aligns the optical path and can adjust it at any moment. This releases users from manual adjusting the optical path and improved accuracy and stability of the measurement results.

8, Quick measurements:
set "automatic" mode, all operation procedures are performed automatically, automatic water supply, automatic ultrasonic sample, stirring, circulation, background testing, sample testing, analysis, draining and cleaning, which significantly reduces the time for measurements, the full process only take 2 minutes.

9, Data analysis:
Errors in the data are rejected and the measurement results are automatically processed. Manual data processing is not necessary and the output is more standard.

3. Software Function
1, Analysis Mode
Free Distribution, R-R Distribution, Logarithm Normal Distribution, Mesh number classification etc. meet different demands of particle size statistic in different industries.
2, Statistic Method
Volume Distribution, Quantity Distribution
3, Statistic Comparison
Statistic Several Testing Results to compare and analyze
Get difference by compare test result of different batches of samples, samples before and after processing, and different time.
Have great practical significance to industrial raw materials quality control
4, User-defined Analysis
Figure out percentage according to the particle size
Figure out particle size according to the percentage
Figure out percentage according to the particle size range
Meet demands of representation of particle test in different industries.
5, Test Report
Word, Excel, Photo (Bmp), Text etc.
6, Multiple language Support
Chinese & English (Others are available)
7, Intelligent Operation Mode
Automatically control water inflow, dispersion, test and analysis.
Better Repeatability after remove human-factor

4. Laser Particle Size Analyzer Application Field:
1.Non-metallic powders such as calcium carbonate, talcum powder, kaolin, zirconium silicate, wollastonite, graphite, silica powder, tourmaline, mica, barite, plaster, bentonite, diamond, quartz, diatomite, feldspar, calamite, clay, garnet, vermiculite, Titanium white power, etc.
2. Metallic powder such as aluminum powder, iron powder, magnesium powder, molybdenum powder, copper powder, zinc powder, other rare metal power and varied alloy powder, etc.
3. Pharmaceutical, agricultural pesticide, grinding particle, foodstuff, scientific research, teaching, cement, ceramic, glass, chemical industry, military industry, soil, toner, pigment, oil exploration, geological analysis, river silt and electronic particle, etc.

5. PSA2000ZD Laser Particle Size Analyzer Patents Technology:
Optical bench design is protected by patent No.- ZL 2014 2 0378380.8,

Three dimensional-optical bench alignment system is protected by patent No.- ZL 2013 2 0835882.4.

MIE scattering principle application patent is protected by patent No.- ZL 2013 2 0812021.4.

Wet circulation installation is protected by patent No.-ZL2010 2 0593526.2.
Petroleum & Oil Analyzer Petroleum Testing Instruments

· Open Cup Flash Point Tester
· Flash & Fire Point Tester for Petroleum Products
· Closed Cup Flash Point Tester
· Engler Viscometer
· Water Content Tester
· Rotational Viscometer
· Kinematics Viscometer
· Distillation Tester
· Density Tester Rust and Corrosion Tester
· Sulphur Content Tester
· Acid and Alkali Tester
· Dropping Point Tester
· Demulsibility Characteristics Tester
· Ash Content Tester
· Aniline Point Tester
· Low Temperature Tester
· Residue Carbon Tester
· Existent Gum Tester
· Vapor Pressure Tester
· Petroleum Products Vapor Pressure Tester(Reid Methods)
· Bomb Calorimeter
· OCTANE & CETANE ANALYZER
· Lubricating Grease Steel Sieve Oil Separation Tester
Lubricating Oils Foaming Characteristics Tester
Naphthalene Crystallizing Point Tester
Petroleum Products Color Tester
Mechanical Impurity Tester (Weight method)
Crude Petroleum and Petroleum Products Salt Content Tester
Petroleum Wax Oil Content Tester
Automatic Interfacial Tension Tester
Automatic Multifunctional Degassing Oscillation Tester
Insulating Oil Breakdown Voltage Tester
Insulating Oil Volume Resistivity Tester
Liquid Petroleum Products Hydrocarbon Tester
Lubricating Oil Air Release Value Tester
Self-ignition Point Tester
Insulation oil proof pressure tester
Precision adsorption column cleanser
Fluorescent Indicator Absorption Apparatus
dean stark apparatus(water content)(single tube)
dean stark apparatus(water content)(double tube)
Petroleum Products and additives Mechanical impurities tester
Petroleum Products Saybolt color tester(Saybolt colorimetric method)
Engine coolant Foam characteristic tester (glassware Method )
Jet fuel Solid particulate pollutant tester
Apparatus for water separability of petroleum oils
apparatus for Rusting Characteristics of Oils
Lubricating Grease Pressure Oil Separating Tester
Cone and Needle Penetration for petroleum products
Oil Separation Apparatus for grease